Transition Finance – Recommendations by European Commission
The EU Sustainable Finance Package was released on June 13th 2023. It has three parts: The regulation of ESG ratings, the EU Taxonomy delegated acts and recommendations on Transition Finance. We have published our analysis of the first two parts – Regulations of ESG ratings (read here) and Taxonomy delegated acts (read here). In this article, we look at the third part related to Transition finance.
Why Transition Finance?
As part of the European Green Deal, the European Union has set itself a goal of becoming Climate-neutral by 2050. While this ambitious goal opens up exciting opportunities for individuals and organisations, companies and investors face enormous challenges navigating this transition to a green and sustainable economy as a result of the new disclosure and reporting requirements. Companies, especially those in industries with relatively high carbon footprints, also require a significant amount of capital to transform themselves to meet the needs of the net-zero economy. While green finance is available for activities already defined as "green" according to accepted standards, economic activities and technologies that are not green currently but help transition to green also require finance. The EU recommendations on Transition finance aim to facilitate capital flow into such transition activities by providing 
the definition of transition finance, 

articulation of transition finance needs, and

raising transition finance.
Definition of Transition Finance
To describe transition finance, it is essential first to understand other types of finance, like sustainable finance and general finance. The EU has described them as below. 
Sustainable finance is about financing both 

what is already environment-friendly 

what is transitioning to such performance levels over time. 

General finance, which does not have any sustainability objectives and can currently include both high sustainable impact and low sustainable impact activities, with the high impact activities becoming low impact over time. 

Transition finance aims to finance that transition to EU objectives and become green in the future. It can include both use-of-proceeds financing and general (corporate) purpose financing. According to the EU

"In the short-term transition finance will often not result in improvements that meet green performance targets. 

In the long-term, however, transition finance needs to be aligned with climate and environmental objectives of the EU and will therefore be considered either green or low impact."
Figure 1 below shows the relationship between general finance, green finance and transition finance.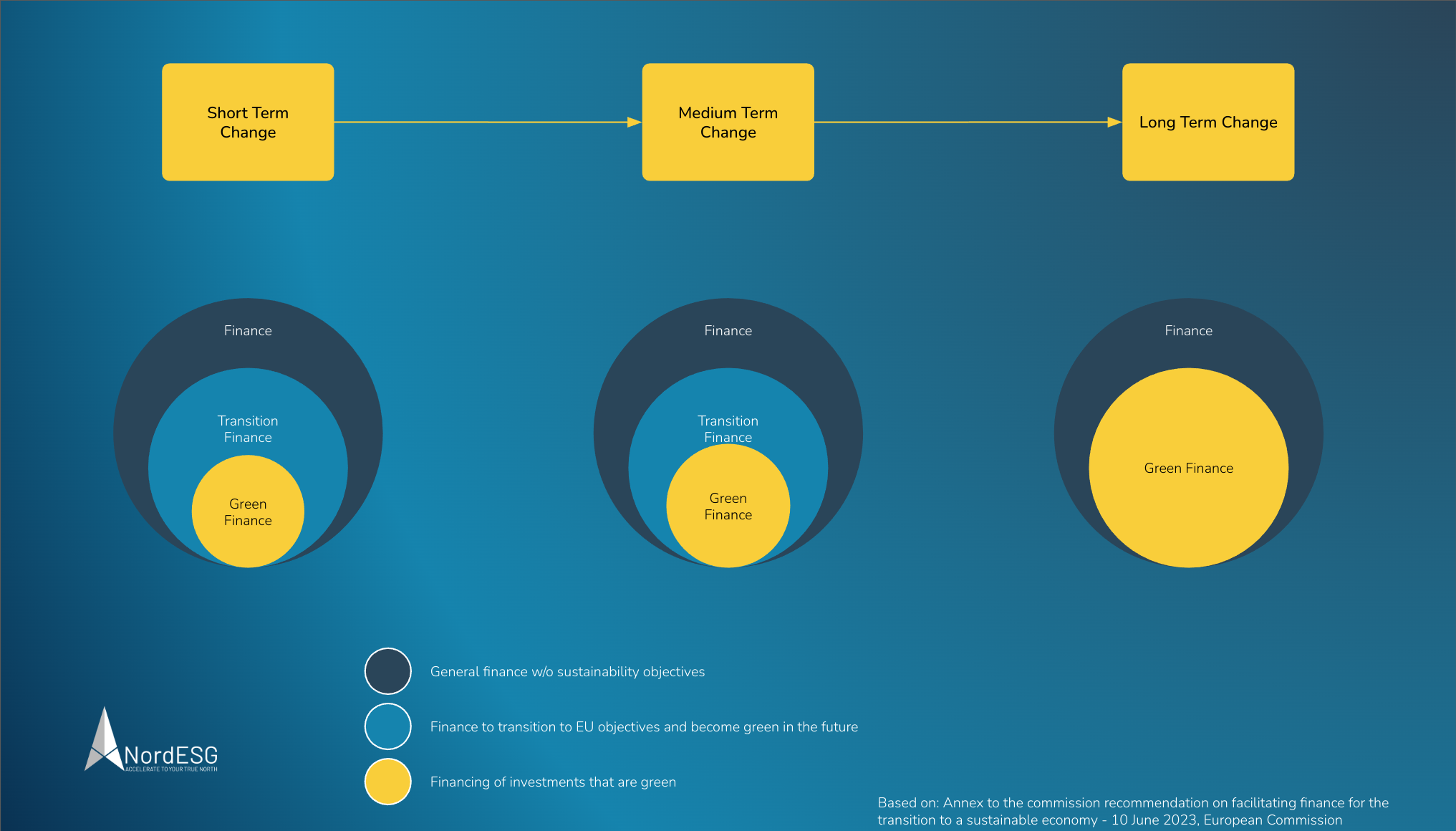 Articulating and raising transition finance
Articulation – The definition of transition targets and transition finance needs can be supported using the sustainable finance tools like EU Taxonomy or EU climate benchmarks. 
Raising finance – Transition finance can then be raised through green- or sustainability linked bonds, Green loans equity financing or specialised lending.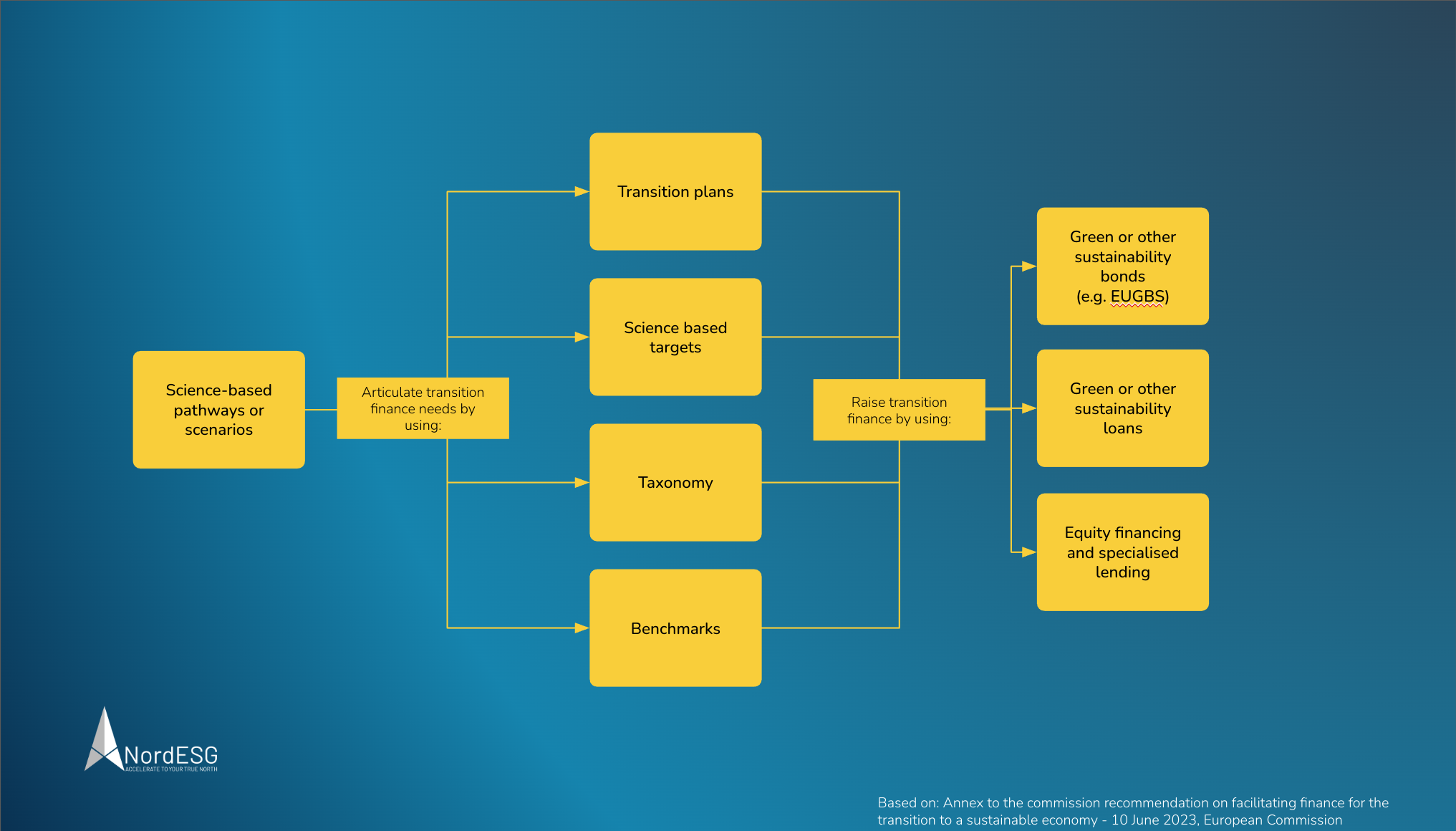 Climate benchmarks 
The EU climate benchmarks are designed with a set of criteria that seek to establish a pathway for portfolios that align with the transition towards a sustainable economy. These benchmarks uphold minimum standards for decarbonization targets and trajectories, necessitating an annual reduction of at least 7% in greenhouse gas (GHG) intensity or an absolute GHG emissions target. This ensures that investments are in line with the goal of building a sustainable future.
For more details on  Climate Transition Benchmarks(CTB) and Paris-aligned Benchmarks(PAB), read our blog here. 
EU Taxonomy 
We have written extensively about EU Taxonomy, and all the relevant links can be accessed here. Taxonomy can be used as a tool in many ways as given in the image below.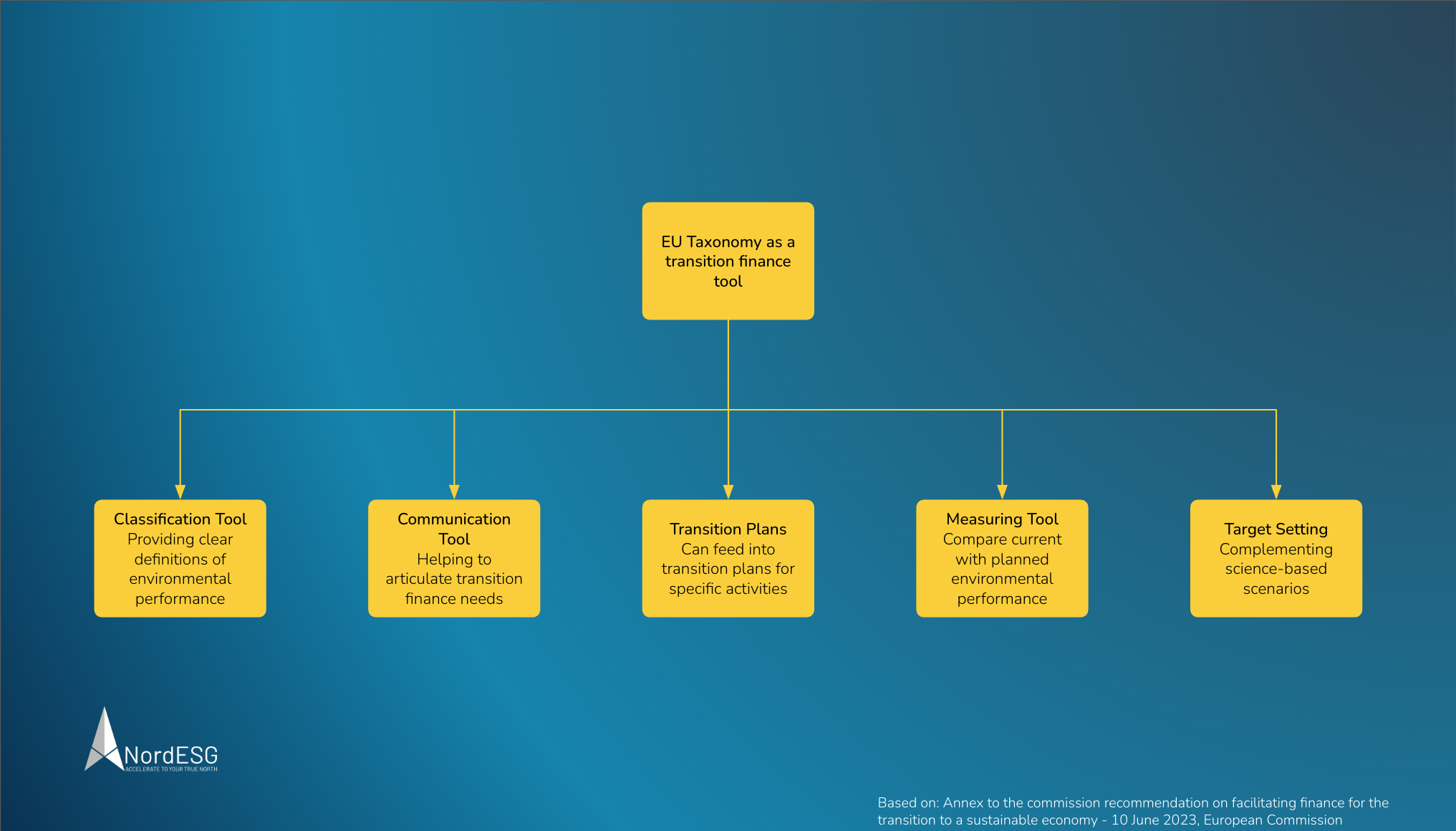 The figure below helps understand how Taxonomy can be used as a transition tool.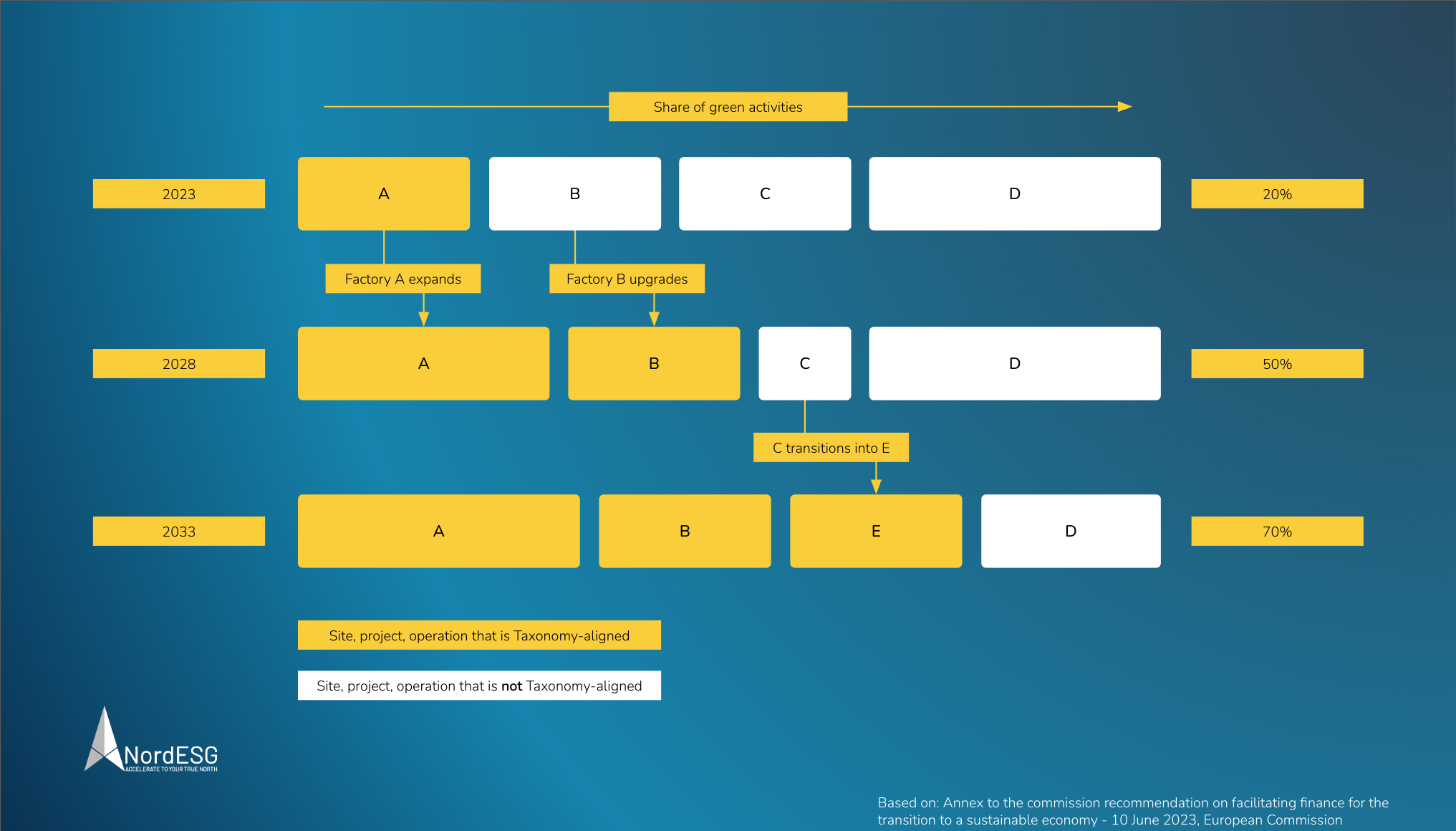 Options to use Taxonomy to specify transition finance needs.
The following are the options available. 
Financing already Taxonomy-aligned economic activities

Investments aligned with the Taxonomy

Investment aligning with the Taxonomy over longer time frame (more than 5 years, or 10 years in exceptional cases)

Investments for transitioning beyond climate mitigation do-no-significant-harm levels in a first step 

Investments specified by other means in activity-based transition plan 

Investments for transitioning activities with low environmental impacts
Financing instruments to raise transition finance
The following are some of key instruments to raise transition finance
green- or sustainability linked bonds, 

Green and other sustainability loans 

equity financing or specialised lending.
Read more about these different types of financial instruments here.
Conclusion
The recommendations on Transition finance provides a good overview of how to strategise for securing transition finance. The specific details can be accessed from the links below. 
The recommendation of the European Commission  –

https://ec.europa.eu/finance/docs/law/230613-transition-finance-recommendation_en.pdf

Annex to the recommendation –

https://ec.europa.eu/finance/docs/law/230613-transition-finance-recommendation-annex_en.pdf

 
NordESG is an advisory firm helping corporates develop, articulate and execute their ESG and sustainability strategies. Our work includes sustainability performance reporting support under various ESG frameworks, strategy development or conducting materiality assessments. By doing so, we help businesses meet their disclosure compliance requirements like CSRD but also help them proactively communicate their strategy to other stakeholders like investors, customers and local communities in which they operate. Our work is focused mainly on Europe and North America.
Book a free discovery call below
This communication is marketing material. The views and opinions contained herein are those of the author(s) on this page, and may not necessarily represent the views expressed or reflected in other NordESG communications or strategies.
This material is intended to be for information purposes only. It is not intended to provide and should not be relied on for accounting, legal or tax advice, or investment recommendations. Reliance should not be placed on the views and information in this document when taking individual investment and/or strategic decisions. Information herein is believed to be reliable, but NordESG does not warrant its completeness or accuracy.
Some information quoted was obtained from external sources NordESG consider to be reliable. No responsibility can be accepted for errors of fact obtained from third parties, and data and information contained in this communication may change in the future. The views and opinions expressed in this communication may change.