EU releases Environmental Delegated Act and amendments to Climate Delegated Act – Updates as of June 2023
On June 13, 2023, the European Commission (EC) expanded the EU Taxonomy by releasing the details for the four environmental objectives. This is in addition to the two climate change-related objectives already in force. As the EC puts it, the EU Taxonomy is a "living classification, " meaning it will be frequently updated based on scientific evidence.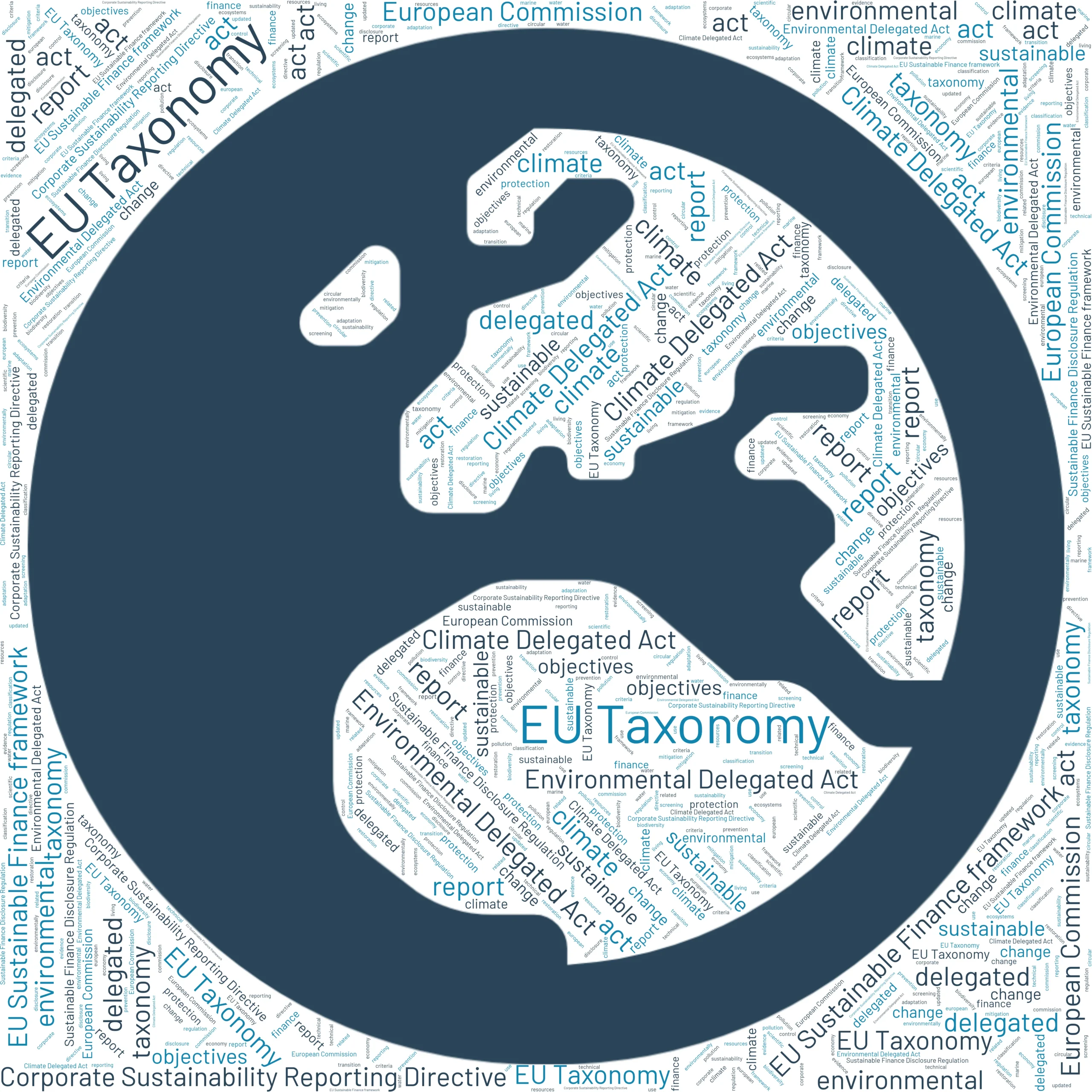 Got questions about sustainability?
Book a free discovery call and discuss with one of our sustainability experts!
Book a free and nonbinding discovery call to discuss your questions with one of our sustainability experts, and learn how we can help you.
The first two objectives above – Mitigation of climate change and Adaptation to climate change – are specified under the Climate Delegated Act and are already in effect. Several larger firms have started reporting their Taxonomy KPIs using the directions available for these two objectives.
In the new release(in June 2023), the European Commission has stated that it has approved in principle a new set of EU Taxonomy criteria for economic activities making a substantial contribution to the remaining four non-climate environmental objectives, namely:
sustainable use and protection of water and marine resources,

transition to a circular economy,

pollution prevention and control,

protection and restoration of biodiversity and ecosystems.
As can be seen from the wording, the delegated act covering these four activities is not directly related to climate change but covers environmental objectives outside of climate change. This delegated act is called the "Environmental Delegated Act". 
Amendments to the existing Climate Delegated Act were also released.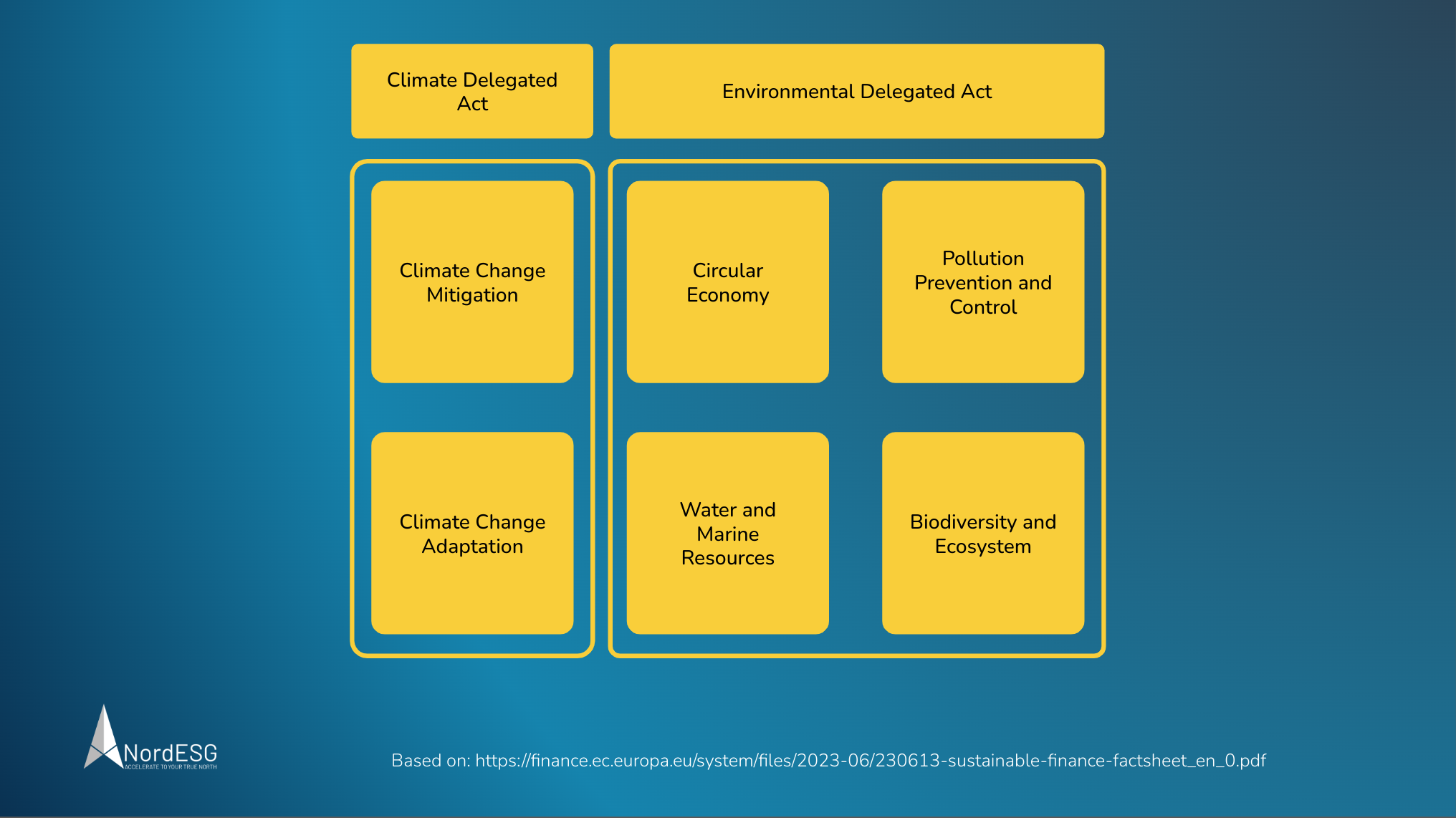 Source: EC
Status of Taxonomy Reporting 
As part of the release, the EC shared the following statistics(read here).
This year's initial corporate reporting indicates increased usage of the EU Taxonomy by undertakings to demonstrate sustainability performance and efforts.
As of May 17 2023, 63% of companies from the STOXX Europe 600 have disclosed their taxonomy figures.

Among these companies, 30% (178 companies) showed alignment with the taxonomy in their capital expenditure (CapEx).

Additionally, 23% (139 companies) reported alignment with the taxonomy in their revenue figures, and 21% (127 companies) did so for their operating expenditure (OpEx).

On average, the alignment with the taxonomy for these companies was approximately 17% for revenue, 23% for CapEx, and 24% for OpEx.

The reporting figures also revealed that nearly two in three companies disclosing Taxonomy-eligible CapEx reported some level of alignment with the taxonomy.

Furthermore, one in two companies disclosing Taxonomy-eligible revenue reported some level of alignment with the taxonomy.
Conclusion
With the release of the "Environmental Delegated Act", the technical screening criteria(TSC) for determining the conditions under which an economic activity qualifies as contributing substantially to all the six climate or environmental objectives is now complete. While these TSCs will be reviewed and updated periodically, the baseline conditions are now available for companies to start equipping themselves with the knowledge and expertise to report under EU Taxonomy. 
Access the Text to the Delegated Acts and the Annexures here.
NordESG is an advisory firm helping corporates develop, articulate and execute their ESG and sustainability strategies. Our work includes sustainability performance reporting support under various ESG frameworks, strategy development or conducting materiality assessments. By doing so, we help businesses meet their disclosure compliance requirements like CSRD but also help them proactively communicate their strategy to other stakeholders like investors, customers and local communities in which they operate. Our work is focused mainly on Europe and North America.
Book a free discovery call below
This communication is marketing material. The views and opinions contained herein are those of the author(s) on this page, and may not necessarily represent the views expressed or reflected in other NordESG communications or strategies.
This material is intended to be for information purposes only. It is not intended to provide and should not be relied on for accounting, legal or tax advice, or investment recommendations. Reliance should not be placed on the views and information in this document when taking individual investment and/or strategic decisions. Information herein is believed to be reliable, but NordESG does not warrant its completeness or accuracy.
Some information quoted was obtained from external sources NordESG consider to be reliable. No responsibility can be accepted for errors of fact obtained from third parties, and data and information contained in this communication may change in the future. The views and opinions expressed in this communication may change.