What is the difference between the Corporate Sustainability Reporting Directive (CSRD) and the EU Taxonomy?
Companies that are starting their sustainability reporting journey are confronted with many new terms and may face initial confusion about the differences between the "Corporate Sustainability Reporting Directive" or "CSRD", "Sustainable Finance Disclosure Regulation" or "SFDR" and the "EU Taxonomy". 
In this instalment of our mini-series about "the difference between…" we cover "CSRD" vs "EU Taxonomy". You can find other related blog posts here:
CSRD, SFDR and EU Taxonomy – the Trinity of sustainable finance in the EU
The image below provides a broad idea of how the CSRD, SFDR and EU Taxonomy, which are part of the EU Sustainable Finance Framework, are interconnected.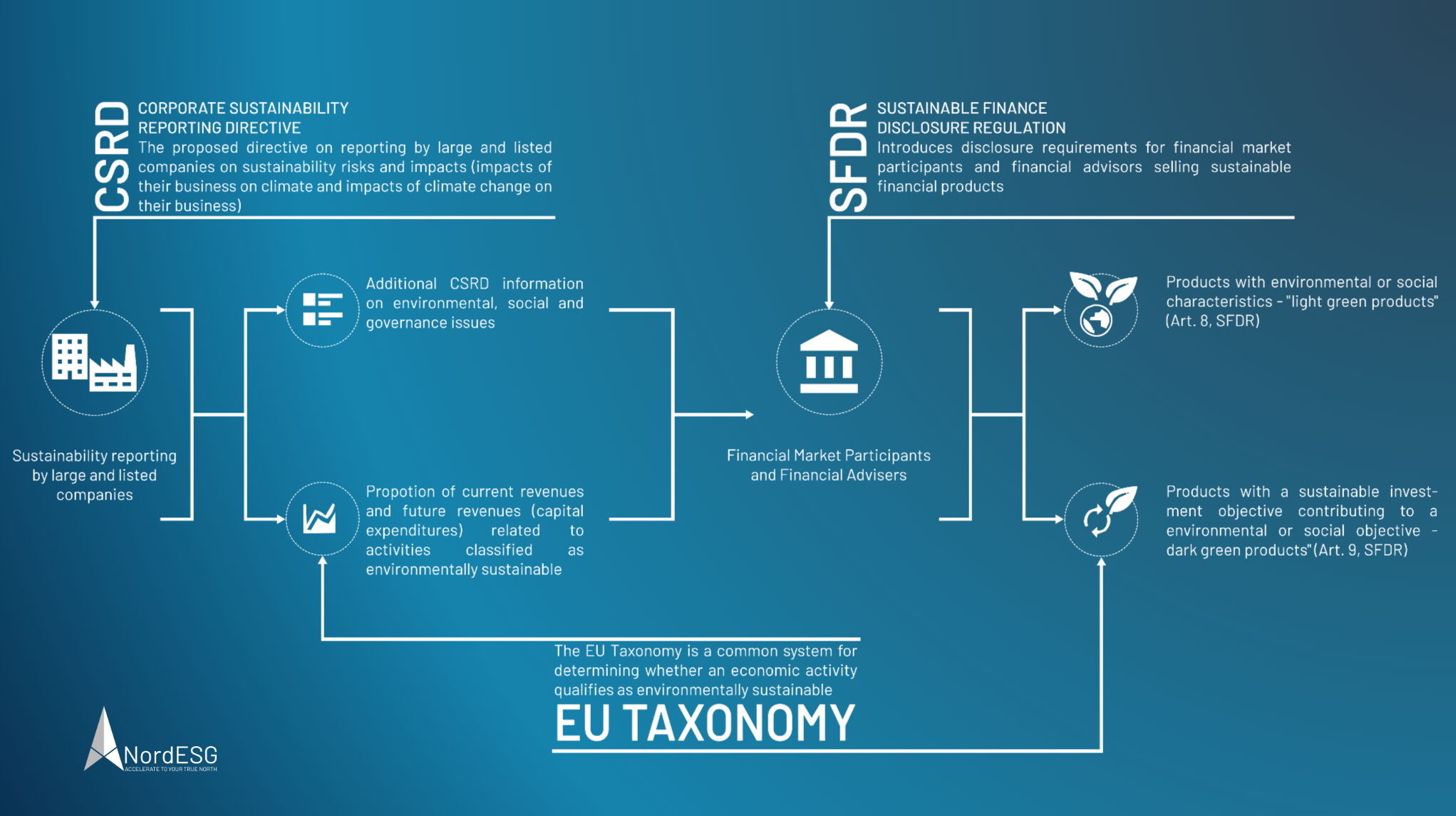 Another perspective to look at is how information flow enables capital flow. See the image below for reference.
Got questions about sustainability?
Book a free discovery call and discuss with one of our sustainability experts!
Book a free and nonbinding discovery call to discuss your questions with one of our sustainability experts, and learn how we can help you.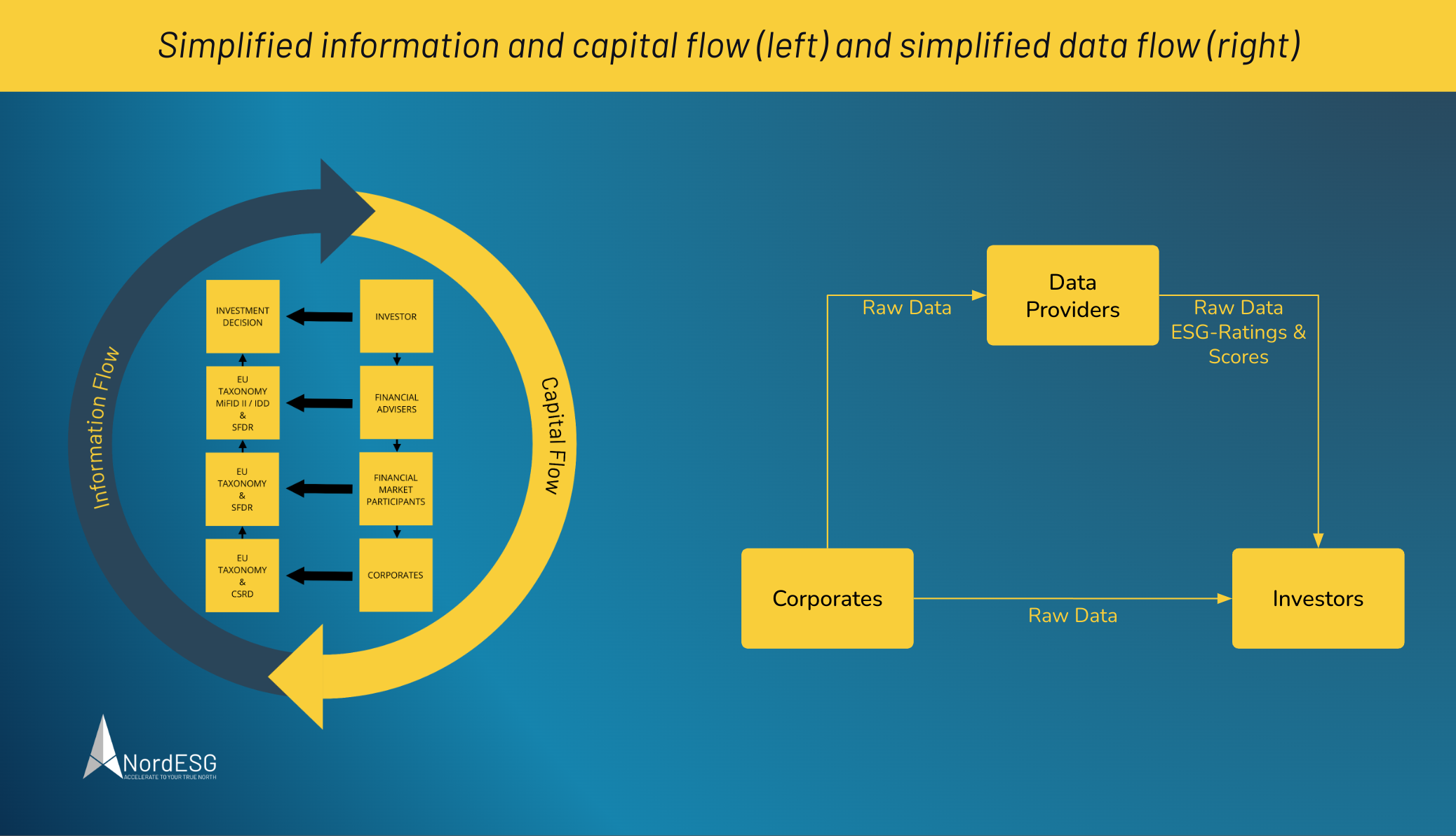 The EU Taxonomy is the common link for firms that must report under CSRD and investors that need to fulfil their disclosure requirements under the SFDR. We compiled the table below for a quick reference and comparison of the differences between the CSRD and the EU Taxonomy. 
| | | |
| --- | --- | --- |
| | CSRD | EU Taxonomy |
| Scope and Applicability | Focuses on improving the quality and comparability of sustainability information disclosed by large public-interest entities (PIEs) such as listed companies, banks, and insurance companies operating in the EU. It expands on the existing Non-Financial Reporting Directive (NFRD) and aims to align sustainability reporting with financial reporting. | A framework that classifies economic activities based on their environmental sustainability. It sets criteria to determine whether an economic activity can be considered environmentally sustainable, specifically targeting sectors that have a significant impact on climate change. |
| Objectives | To improve the transparency and reliability of sustainability information provided by companies. It aims to ensure that companies disclose relevant environmental, social, and governance (ESG) information in a consistent and comparable manner, enabling stakeholders to make informed decisions. | To provide a common language and framework for sustainable finance. It sets criteria to identify environmentally sustainable economic activities, with the goal of channeling investments towards sustainable projects and supporting the EU's climate goals. |
| Disclosure Requirements | Introduces more detailed and standardized reporting requirements compared to the NFRD. It expands the scope of disclosure, mandating companies to report on a wider range of sustainability topics, including climate change, biodiversity, and human rights. It also introduces the requirement for companies to provide digital and structured data, enabling better accessibility and analysis of sustainability information. | Focuses on classifying economic activities into two categories: "environmentally sustainable" and "enabling transition." It sets out specific technical screening criteria that activities must meet to be considered environmentally sustainable. The taxonomy is primarily used by investors and financial institutions to assess the environmental sustainability of their investments. |
As mentioned earlier, this article provides a quick overview of the differences between the two regulations. For a deep dive, we recommend reading our articles on the CSRD and EU Taxonomy:
NordESG is an advisory firm helping corporates develop, articulate and execute their ESG and sustainability strategies. Our work includes sustainability performance reporting support under various ESG frameworks, strategy development or conducting materiality assessments. By doing so, we help businesses meet their disclosure compliance requirements like CSRD but also help them proactively communicate their strategy to other stakeholders like investors, customers and local communities in which they operate. Our work is focused mainly on Europe and North America.
Book a free discovery call below
This communication is marketing material. The views and opinions contained herein are those of the author(s) on this page, and may not necessarily represent the views expressed or reflected in other NordESG communications or strategies.
This material is intended to be for information purposes only. It is not intended to provide and should not be relied on for accounting, legal or tax advice, or investment recommendations. Reliance should not be placed on the views and information in this document when taking individual investment and/or strategic decisions. Information herein is believed to be reliable, but NordESG does not warrant its completeness or accuracy.
Some information quoted was obtained from external sources NordESG consider to be reliable. No responsibility can be accepted for errors of fact obtained from third parties, and data and information contained in this communication may change in the future. The views and opinions expressed in this communication may change.