Scope 3 Emissions – Coming to an ESG Reporting Framework near you soon! 
On October 21st, 2022, the IFRS released a press statement that the "ISSB unanimously confirms Scope 3 GHG emissions disclosure requirements with strong application support, among key decisions". In this blog post, we share our thought on the implications for corporations, why Scope 3 emissions are challenging to measure, and when companies should start with carbon accounting.
From the ISSB press release
According to a press release by the IFRS Foundation dated October 21st 2022, the International Sustainability Standards Board (ISSB) of the IFRS Foundation unanimously confirms Scope 3 emissions disclosure requirements in the context of the two proposed sustainability-related disclosure standards ("IFRS S1 General Requirements for Disclosure of Sustainability-related Financial Information" and "IFRS S2 Climate-related Disclosures").
So besides reporting on Scope 1 and Scope 2 greenhouse gas emissions, disclosure on Scope 3 emissions will become part of the sustainability performance reporting following the GHG Protocol Corporate Standard for carbon accounting.
Since accounting of Scope 3 GHG emissions is a complex task, the ISSB will develop "relief provisions" to help companies apply to the reporting requirements on Scope 3 emissions. However, ISSB will decide on this relief at a future meeting. The press release mentions that the relief could include giving companies more time to report on and disclose their Scope 3 emissions and work with jurisdictions on so-called "safe harbour" provisions.
Implications for Corporations
Corporations reporting under the proposed disclosure standards must disclose their carbon emissions inventory following the GHG Protocol Corporate Standard as a framework. 
Scope emissions – Why is reporting on Scope 3 emissions complex?
The GHG Protocol Corporate Standard classifies greenhouse gas emissions as Scope 1, Scope 2 and Scope 3 GHG emissions. 
In a nutshell, GHG emissions can be classified as either direct or indirect: Scope 1 emissions are emissions from sources directly controlled by the reporting company (hence, classified as direct emissions). Scope 2 emissions are classified as indirect emissions. An often-used example of Scope 2 emissions is purchased electrical energy and associated carbon emissions.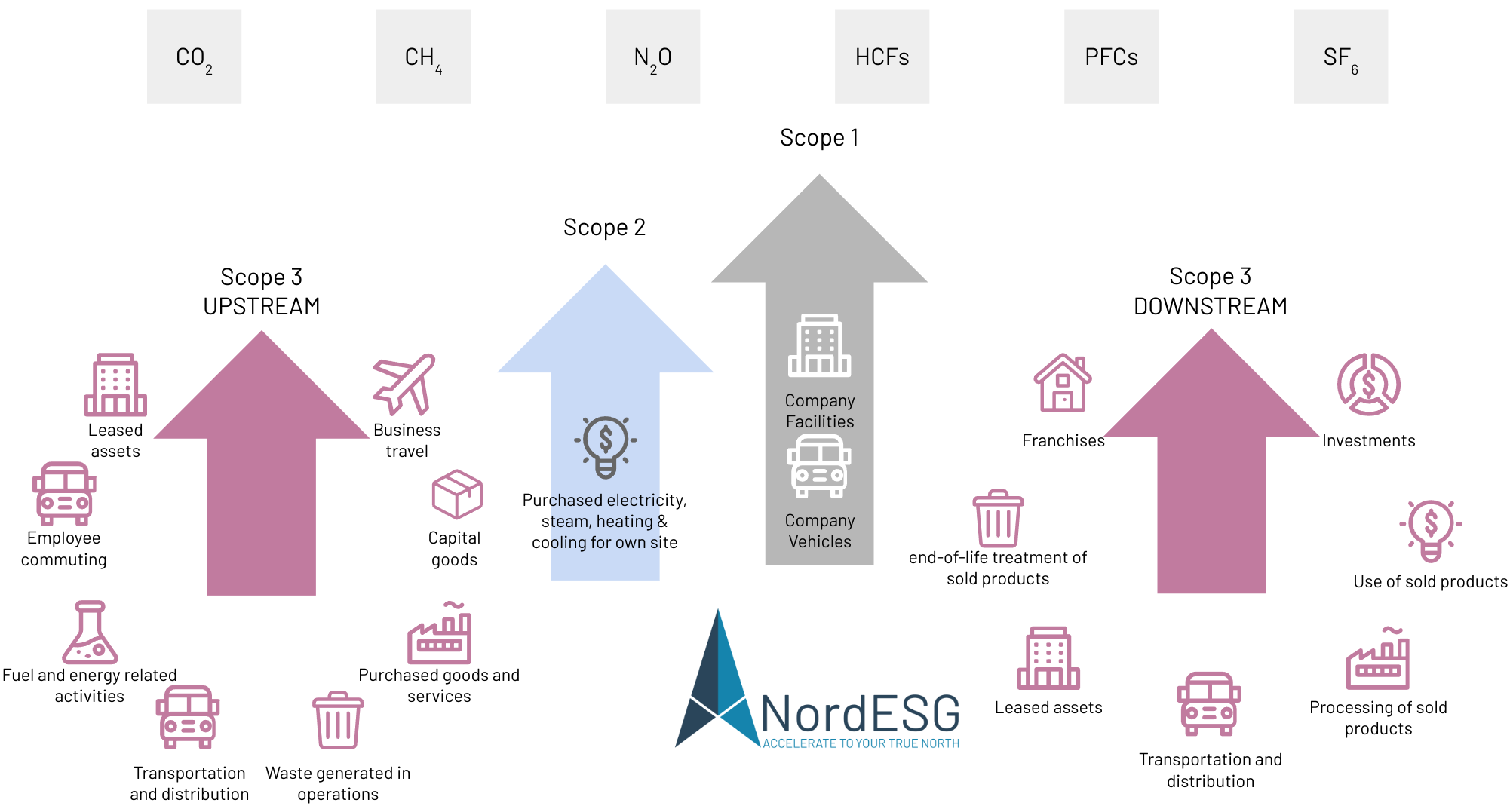 Scope 3 emissions are yet another class of indirect greenhouse gas emissions not covered in Scope 2. Scope 3 emissions result from the reporting company's activities but stem from sources not owned or controlled by the reporting company and occur along the value chain. Hence they are classified as "upstream" and "downstream" Scope 3 emissions.
Got questions about Scope 3 Emissions?
Book a free discovery call and discuss with one of our carbon accounting experts.
Book a free and nonbinding discovery call to discuss your questions with one of our carbon accounting experts, and learn how we can help you with Scope 3 Emissions.
Accounting and evaluating Scope 3 emissions is complex because Scope 3 emissions occur along the entire upstream and downstream value chain. And Scope 3 emissions can, depending on the industry, represent the most significant part of a company's CO₂ footprint.
Up- and Downstream Scope 3 Emissions
Here are some examples of GHG emissions along up- and downstream activities: "Upstream" Scope 3 emissions include employee commuting, transportation and distribution and business travel, and emissions from leased assets, waste generated in operations, or purchased goods and services. The "downstream" perspective of Scope 3 emissions includes emissions from the end-of-life treatment of sold products and emissions associated with using or processing sold products. 
It becomes evident that accounting for Scope 3 emissions is a challenging task. How reliable is data gathered along the value chain, and what is the data quality for suppliers' carbon emissions? 
Most likely, some suppliers have already started carbon accounting and can provide sufficient and reliable data that can be used by the reporting companies' for Scope 3 disclosures. However, other suppliers will need help presenting reliable carbon emission data. 
And what about the end-of-life treatment of sold products? Let's take SF6 as an example. SF6, or sulphur hexafluoride, is a colourless, odourless, non-flammable, and non-toxic gas used mainly as a gaseous dielectric medium in the electrical power industry and is the most potent greenhouse gas with a global warming potential of 23.900 times that of CO₂ when compared over a 100-year-period. Therefore, from the perspective of an SF6 manufacturing company, proper end-of-life treatment of the product by its customers is a must. 
If you want to learn more about Scope emissions, especially Scope 3, we encourage you to read our 101 blog post "How to systematically account for Scope 3 emissions", which you can find here. 
When should companies get started with Scope 3 GHG emissions accounting? 
The press release by the IFSR on ISSBs decisions on Scope 3 mentions relief provisions so companies can apply to the Scope 3 reporting requirements. However, ISSB will decide on this relief in a future meeting.
Based on what we know – Scope 3 emissions will be a part of reporting frameworks that ISSB is preparing – we suggest starting with the carbon accounting process as soon as possible. That may include the following: 
Understanding the disclosure requirements and processes of the Greenhouse Gas Protocol Corporate Standard. 

Setting up in-house processes for carbon accounting.

Gathering Scope 1 and Scope 2 data to build confidence in the data acquisition process. 

Gathering Scope 3-related data is more complex and involves entities along the entire value chain. Engage with the stakeholders along the value chain to clarify that you are working on Scope 3 emission reporting; data from stakeholders will play a vital role in this process. 
From our experience, reporting on Scope 3 emissions is a marathon, not a sprint. As a result, data quality will improve over time with each process iteration as more and better data becomes available from stakeholders along the value chain. 
If you want to learn more about how we can help you with carbon accounting, feel free to book a non-binding discovery call using the scheduling tool below. 
NordESG is an advisory firm helping corporates develop, articulate and execute their ESG and sustainability strategies. Our work includes sustainability performance reporting support under various ESG frameworks, strategy development or conducting materiality assessments. By doing so, we help businesses meet their disclosure compliance requirements like CSRD but also help them proactively communicate their strategy to other stakeholders like investors, customers and local communities in which they operate. Our work is focused mainly on Europe and North America.
Book a free discovery call below
This communication is marketing material. The views and opinions contained herein are those of the author(s) on this page, and may not necessarily represent the views expressed or reflected in other NordESG communications or strategies.
This material is intended to be for information purposes only. It is not intended to provide and should not be relied on for accounting, legal or tax advice, or investment recommendations. Reliance should not be placed on the views and information in this document when taking individual investment and/or strategic decisions. Information herein is believed to be reliable, but NordESG does not warrant its completeness or accuracy.
Some information quoted was obtained from external sources NordESG consider to be reliable. No responsibility can be accepted for errors of fact obtained from third parties, and data and information contained in this communication may change in the future. The views and opinions expressed in this communication may change.