European Sustainability Reporting Standards (ESRS) – From Idealism to Pragmatism
Corporate disclosures – financial or non-financial – are costly. The latest draft European Sustainability Reporting Standards (ESRS) published by the European Commission (EC) in June 2023 reduces and/or delays various reporting requirements for European firms and anticipates that the cost of reporting will reduce by € 1'172 million during the phase in period  and an annual cost reduction of  € 230 million compared to the EFRAG proposal. EC leaned more towards pragmatism as against the grand idealistic ambitions demonstrated when setting out the sustainability reporting regulation creation. 
The EC has invited comments and feedback on this draft till July 7th, 2023 as part of public consultations. The draft ESRS published for public consultation is a draft delegated act. For the uninitiated, there is a "basic act", which has to be legislated by all EU countries, and there is a "delegated act" which supplements the "basic act" but is not required to be "legislated" by the EU, but only "adopted" by the EC (more here).
The baseline
EFRAG, the agency entrusted with creating the ESRS, submitted its first draft to the European Commission in November 2022. The accompanying cost-benefit analysis of the First Set of draft European Sustainability Reporting Standards (ESRS) released by EFRAG in November 2022 reported that there would be significant direct and indirect costs for reporting under the new ESRS. Some estimated numbers are below.
Direct costs: The total incremental costs – around € 1.7 billion in one-off costs and an additional € 1.9 billion in recurring costs.
| | |
| --- | --- |
| Type of undertaking | Estimated cost per firm |
| Listed companies already in scope of NFRD | € 320'000 per year recurring, € 287'000 per year during the first year |
| non-listed companies already in scope of NFRD | 50% of listed firms already in scope of NFRD (#1) |
| Listed companies not in scope of NFRD | 50% of listed firms already in scope of NFRD (#1) |
| non-listed companies not in scope of NFRD | 20% of listed firms already in scope of NFRD (#1) |
Assurance costs: For limited assurance – at least € 360'000 for NFRD listed undertakings after all requirements have been phased in. 
Indirect costs: Related to reporting on value chain metrics and estimated to be between € 0.2 Billion and € 1.5 Billion per year. 
Benefits: Both direct and indirect benefits are qualitative and mostly intangible. 
Too prescriptive over-regulation?
If not balanced well, the costs of reporting will vastly outweigh the benefits, and can even put a question mark on the survival of small firms with limited financial resources. A major challenge faced by the European Union regulators is to balance the costs of compliance and reporting, with the benefits that the firms accrue by complying with the regulations. 
One of the arguments put forward by Brexiters was to unshackle UK based businesses from the EU's overregulation and build a "Singapore-on-Thames" characterized by low-tax, light-touch regulations. There has been consistent concerns about "Europe's regulatory-technocratic suicide" which could result if excess regulations will make EU's businesses uncompetitive, especially compared to US businesses.
The latest revisions to the European Sustainability Reporting Standards (ESRS) appear to acknowledge and address these concerns, at least to some extent. The latest draft version of ESRS released by the European Commission on June 9th, 2023 reduces the reporting requirements under the CSRD as compared to the draft ESRS released by EFRAG after consultations in November 2022. In doing so, the EC is trying to balance the following directions set in the Accounting Directive(2013/34/EU).
The sustainability reporting standards must also meet the following requirements:
– ensure the quality of reported information;
– avoid imposing a disproportionate administrative burden on undertakings
– take account of the difficulties that undertakings may encounter in gathering information from actors throughout their value chain
Key changes
While there are several changes in the latest draft, this article focuses on the reduction and delays (or "phase-ins") in disclosure requirements. Before getting into the details, here is a gist of the evolution of the ESRS draft.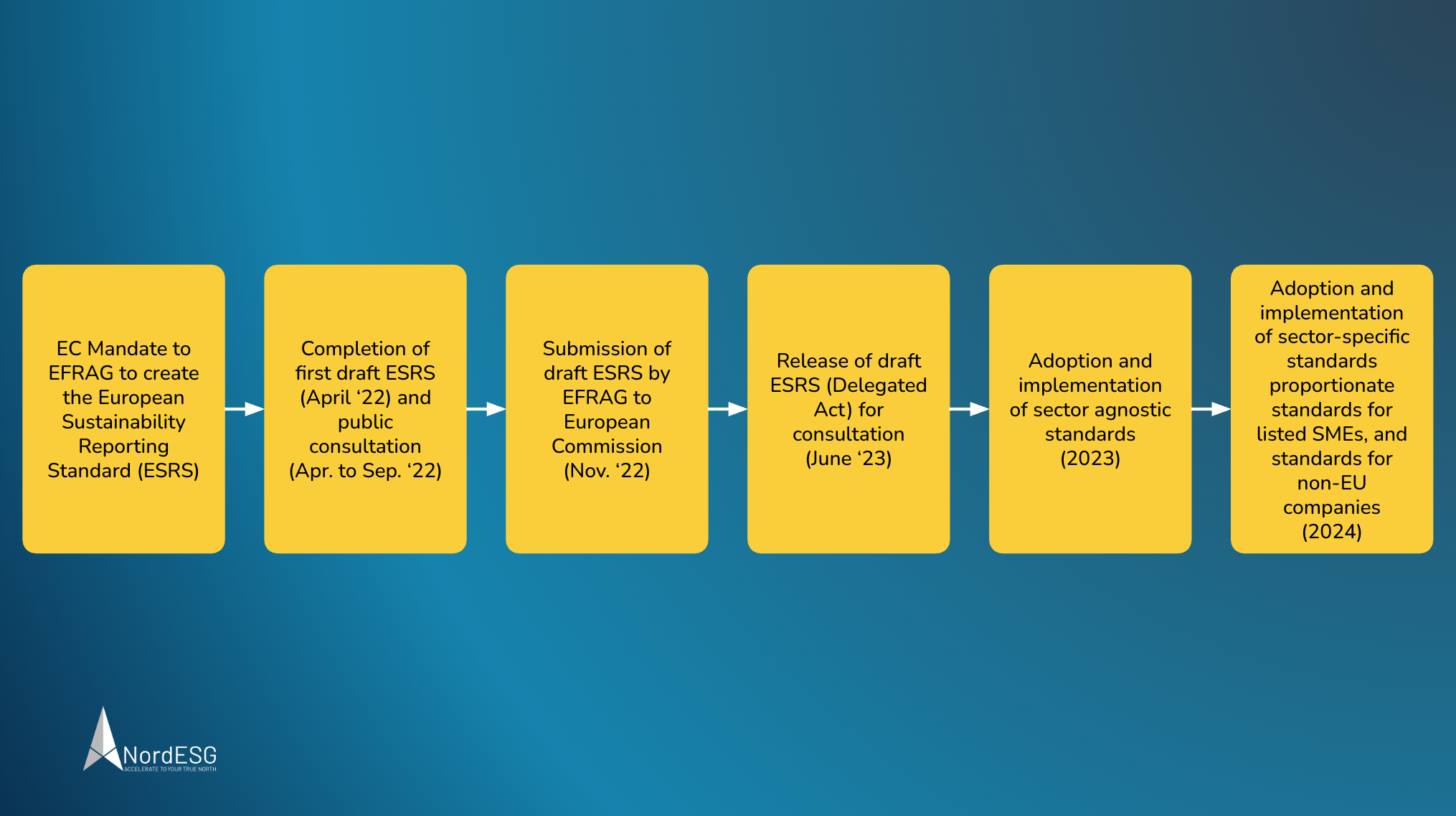 To get a better understanding about the proposed changes, we divide this evolution into two phases. 
Changes in Phase 1
Before submitting the draft to EC in November 2022, EFRAG made some revisions based on stakeholder consultation. Key changes in scope after incorporation stakeholder feedback included
Compared to the first draft, the number of disclosure requirements were reduced from 136 to 84. 

The total number of qualitative and quantitative data points were reduced from 2'161 to "only" 1'144. 

One of the original standards, the ED ESRS G1, was dropped entirely.

Some disclosure requirements considered challenging for undertakings will be phased in gradually.

Undertakings will have the option to omit value chain metrics for a period of 3 years.

Certain information related to climate financial effects, gender breakdown of employees, collective bargaining coverage, adequate wages, social protection, and training and skills development will have phase-ins ranging from 1 to 3 years.

Other changes included removal of "rebuttable presumption" while assessing "materiality"

Better interoperability with ISSB and GRI standards 
Got questions about the ESRS and the CSRD?
Book a free discovery call and discuss with one of our sustainability experts!
Book a free and nonbinding discovery call to discuss your questions with one of our sustainability experts, and learn how we can help you.
Proposed changes in Phase 2
In its draft delegated act on ESRS released by the European Commission (EC) for consultation, further relaxations are proposed and are quoted below. 
Phasing-in (or delayed reporting) of  certain requirements: In addition to the phase-ins proposed by EFRAG, the Commission has introduced the additional phase-ins:

" Undertakings with less than 750 employees may omit: scope 3 GHG emissions data and the disclosure requirements specified in the standard on "own workforce" in the first year that they apply the standards; and the disclosure requirements specified in the standards on biodiversity and on value-chain workers, affected communities, and consumers and end-users in the first two years that they apply the standards.

All undertakings may omit the following information in the first year that they apply the standards: anticipated financial effects related to non-climate environmental issues (pollution, water, biodiversity, and resource use); and certain data points related to their own workforce (social protection, persons with disabilities, work-related ill-health, and work-life balance)."

"Mandatory" to "Voluntary" disclosures: The European Commission has converted some of mandatory disclosures proposed by EFRAG to voluntary disclosures. Some of the examples are
biodiversity transition plans

certain indicators about "non-employees" in the undertaking's own workforce

an explanation of why the undertaking may consider a particular sustainability topic not to be material.
Additional flexibilities in certain disclosures: More flexibilities have been given to some disclosure requirements. Examples include
requirements on the financial effects arising from sustainability risks and on engagement with stakeholders

in the methodology to use for the materiality assessment process. 

modification in datapoints regarding corruption and bribery and regarding the protection of whistle-blowers that might be considered to have infringed on the right not to self-incriminate.
Ambition vs Action
While these relaxations are definitely a huge relief for companies that have to use ESRS to report under CSRD, some of the other stakeholders are not particularly thrilled. For example, the European Social Investment Forum (Eurosif) has released a press release politely expressing its disappointment in what it sees as a dilution of ambition of the ESRS and lowering the quality and quantity of sustainability reporting. It also expressed concerns about making climate disclosures like GHG emissions, climate targets, etc subject to materiality assessment a step that is inconsistent with the European Green Deal and EU Climate law. Eurosif also highlights the fact that the relaxation in the disclosures of several elements of the ESRS will affect the financial market participants who are required to comply with and report under regulations like Sustainable Finance Disclosure Regulation (SFDR), Benchmark Regulation, and Pillar 3 disclosure requirements. The Eurosif press release can be accessed here.
Conclusion 
We believe that after the consultation is over, the ESRS will undergo further changes both in terms of scope and scale. Balancing the competing requirements of such a far reaching and complicated regulation was never going to be easy, and we will await how this plays out further. We will post more updates on this historic regulation, and please come by soon to read our analysis on the same.
NordESG is an advisory firm helping corporates develop, articulate and execute their ESG and sustainability strategies. Our work includes sustainability performance reporting support under various ESG frameworks, strategy development or conducting materiality assessments. By doing so, we help businesses meet their disclosure compliance requirements like CSRD but also help them proactively communicate their strategy to other stakeholders like investors, customers and local communities in which they operate. Our work is focused mainly on Europe and North America.
Book a free discovery call below
This communication is marketing material. The views and opinions contained herein are those of the author(s) on this page, and may not necessarily represent the views expressed or reflected in other NordESG communications or strategies.
This material is intended to be for information purposes only. It is not intended to provide and should not be relied on for accounting, legal or tax advice, or investment recommendations. Reliance should not be placed on the views and information in this document when taking individual investment and/or strategic decisions. Information herein is believed to be reliable, but NordESG does not warrant its completeness or accuracy.
Some information quoted was obtained from external sources NordESG consider to be reliable. No responsibility can be accepted for errors of fact obtained from third parties, and data and information contained in this communication may change in the future. The views and opinions expressed in this communication may change.