An Overview of the European Green Claims Directive – Enabling Sustainable Purchasing Decisions and Preventing Greenwashing 
The European Commission has presented its proposal for the Green Claims Directive. The directive proposes "common criteria against greenwashing and misleading environmental claims" [1]. There are good reasons for this, as a study by the European Commission in 2020 shows. In this blog post about the proposed Green Claims Directive, we will examine the reasons that led to the proposed directive, the benefits for consumers and businesses, and provide an initial overview of the requirements that will arise for companies from it. 
Focus: Green Claims, Greenwashing, and Misleading Environmental Claims 
A study by the European Commission in 2020 shows the importance of transparency in environmental claims.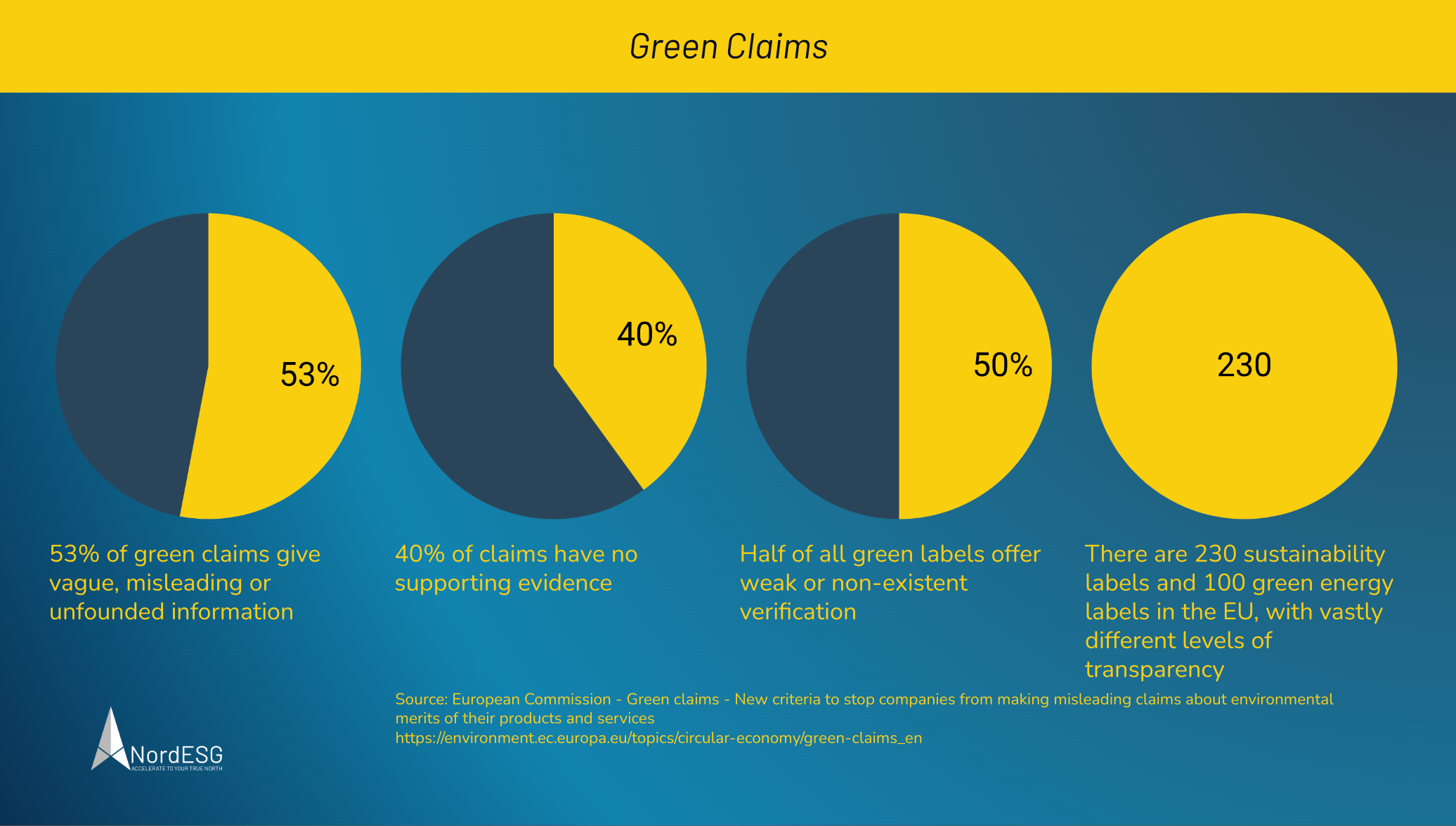 The key findings of the study are:
Over half (53%) of all green claims are vague, misleading or unfounded. 

40% of the claims were unsubstantiated. 

Half (50%) of all green labels offer weak or non-existent verification.

Overall, there are 230 sustainability labels and 100 green energy labels in the European Union, subject to very different transparency requirements. 
All this comes with implications for consumers and businesses: the lack of uniform regulations for green claims favours greenwashing and thus has a negative impact on consumer decisions. In addition, companies that have opted for sustainability as a priority in their operations are also disadvantaged. 
The European Green Deal, the Green Claims Directive, and the Benefits for Businesses and Consumers 
"The Commission is proposing new rules to prevent companies from making misleading claims about the environmental benefits of their products and services and to enable consumers to make informed environmental choices." [4]. 
As part of the European Green Deal, the European Commission has committed to ensuring that consumers are empowered to take an active role in the ecological transition through well-informed decision-making.
"In the European Green Deal the Commission committed to ensure that consumers are empowered to make better-informed choices and play an active role in the ecological transition. More specifically, the European Green Deal sets out a commitment to tackle false environmental claims by ensuring that buyers receive reliable, comparable and verifiable information to enable them to make more sustainable decisions and to reduce the risk of 'greenwashing'". [2]
The Green Claims Directive – How Companies will Benefit
The Green Claims Directive will particularly benefit those companies in the European Union for whom sustainability is already a priority and who are actively working to improve their environmental performance further. 
These companies currently face environmental advertising claims from their competitors, which in many cases (see statistics above) are not or only minimally substantiated. 
Greenwashing, in which products and services are presented as more environmentally friendly than they are, disadvantages these companies and undermines their efforts to improve their environmental performance. 
The European Commission hopes that implementing the directive will create a competitive advantage for such companies that "make a genuine effort to develop environment-friendly products, services and organisational practices, and lessen their impact on the environment" [3]. 
Another aspect is seen in "reduce the risk of legal fragmentation of the single market, saving costs for businesses that have their claims certified by an accredited verifier." and that "harmonised and clear rules will reduce costs for companies trading across borders inside the internal market and reinforce the credibility of our industries outside the EU." [3].
In a fact sheet [4] on the proposed green claims directive, the expected benefits for companies and the associated measures are described as follows: 
A common approach for green claims across the EU will help create a level playing field and improve the competitiveness of businesses prioritising environmental sustainability in their products and activities. Doing so will also enhance the credibility of EU businesses within the EU market and may lead to increasing demand for greener products and solutions. 

Common criteria for how companies should substantiate their environmental claims will be established to achieve this. This approach also addresses the proliferation of environmental labels and a sound system of independent verification and support to SMEs. 
The Green Claims Directive – How Consumers will Benefit 
One of the essential benefits for European Union consumers is that they can expect green claims to be reliable, comparable and verifiable to make well-informed decisions since the green claims directive will effectively prevent greenwashing and misleading consumers through false environmentally related advertising claims. 
Another aspect of the proposed directive relates to public and private environmental labels. Clear regulations will also provide consumers with reliable and trustworthy information to base their purchasing decisions on.
Got questions about sustainability?
Book a free discovery call and discuss with one of our sustainability experts.
Book a free and nonbinding discovery call to discuss your questions with one of our sustainability experts, and learn how we can help you.
What is the Impact of the Green Claims Directive on Companies?
Suppose companies make green claims about their products or services. In that case, they will have to meet minimum norms in the future under the Green Claims Directive – both in terms of how these claims must be substantiated and how they are communicated. 
The directive proposal will apply to green claims not covered by other EU regulations (e.g. the EU Ecolabel, the organic food logo or the EU energy efficiency labels). 
Therefore, the proposed directive focuses on "green claims made by businesses that state or imply a positive environmental impact, lesser negative impact, no impact, or improvement over time for their products, services, or organisation. […] Green claims […] must be substantiated, and this substantiation be verified ex-ante." The directive's scope includes "explicit claims made voluntarily by businesses for consumers, which relate to the environmental impact, aspect, or performance of a product or the trader itself, and adopt a "life-cycle" approach, from raw materials to end-of-life." [3].   
Green Claims must be Substantiated and Communicated Objectively. 
According to the directive proposal, the member states will be responsible for implementing a verification and enforcement process that ensures that companies meet minimum requirements for substantiation and consumer information in the context of voluntary environmental statements, and independent and accredited verifiers perform that. 
That will include the following: 
The claims must be substantiated by generally recognised scientific findings that show the relevant environmental impacts and any conflicts of objectives. 

 If products are compared with other products, these comparisons must be fair and based on equivalent information and data (the same principles apply to comparing organisations). 

Unless set in EU rules, claims or labels that use aggregate scoring of a product's overall environmental impact (e.g. on biodiversity, climate, water consumption, soil) are not permitted. 
Climate-related Statements and Statements about CO₂ Emissions 
The Green Claims Directive will also have an impact on climate-related statements. According to the Commission, terms like "climate-neutral" or "CO₂-neutral" are often misunderstood by customers. So in this context, companies should focus on reducing their own CO₂ footprint and the CO₂ footprint of their value chain. However, if climate-related claims are made, those claims have to detail what part of the claim relates to their own activities and about the role of carbon compensation measures. The draft directive goes even further and formulates requirements defining the correctness of compensation measures and their crediting.
What will be the Impact on Non-EU Companies or International Trade Partners?
Non-EU companies that make voluntary environmental claims that target EU consumers must also comply with the Green Claims Directive requirements. That applies to voluntary green claims made by non-EU companies and environmental labelling schemes developed by external partners operating on the European market (see also below – Environmental Labelling Schemes). 
What will be the Impact on SMEs?
Micro-enterprises are exempt from the regulations of the proposed directive. Micro-enterprises are understood to be those companies that meet the following thresholds:
Fewer than ten employees

Turnover <2 million euros 
Of course, small businesses can also voluntarily comply with the requirements of the draft directive. Furthermore, the press release states that the European Commission is interested in involving small and medium-sized enterprises in the green transition. Therefore member states are called upon to support these companies in implementing the proposed directive. Examples are organisational or technical assistance and funding to gather data to substantiate green claims and develop necessary calculation tools for SMEs.  
The Green Claims Directive and Environmental Labelling Systems 
The Green Claims Directive will also impact environmental labelling systems. "The proposal also addresses environmental labelling schemes, stopping the proliferation of public and private labels and ensuring transparency and robustness of labelling schemes." [3]. 
According to the Commission's assessment, the sheer number of existing labelling systems makes it difficult for consumers to keep track of and make informed decisions. 
New public labelling systems will only be permissible if they are developed at the EU level. The directive proposal also defines requirements for new private labelling systems (developed by private actors in the EU or by external partners active in the EU market). Such labelling systems 
must demonstrate that their environmental goals are more ambitious than those of established systems and thus provide added value. 

In addition, they must be reported to and approved by the Commission in advance.
In any case, the general requirements for environmental labels apply, according to which they must be 
reliable 

transparent 

independently verified and regularly reviewed. [

1

] 
Exceptions are made for environmental statements that fall under existing EU regulations. Examples include the EU Ecolabel or the EU organic logo for ecological/organic foods, for which established regulations already apply. Environmental statements that future EU regulatory requirements will cover are also exempted. [1]
What are the next steps, and how can companies prepare for the Green Claims Directive? 
The proposed directive will go through the legislative process of the European Union. That includes the involvement of the European Parliament and the European Council.
All of this will take time that companies can use to prepare. The directive proposal requires companies to substantiate their environmental claims in the future. Therefore, to prepare themselves, companies could use the remaining time to closely monitor further developments regarding the green claims directive and assess whether their environmental claims are scientifically substantiated and comparable and whether they have taken a life cycle approach into account.
Sources and further reading
[1] European Commission, Press release, 22 March 2023 – Consumer protection: enabling sustainable choices and ending greenwashing
 https://ec.europa.eu/commission/presscorner/detail/en/IP_23_1692
[2] European Commission, Proposal for a Directive on substantiation and communication of explicit environmental claims (Green Claims Directive) 22 March 2023 
[3] European Commission, Questions and Answers on European Green Claims, 22 March 2023
[4] European Commission, Factsheet on European Green Claims, 22 March 2023
[5] European Commission, Green claims – new criteria to stop companies from making misleading claims environmental merits of their products and services
NordESG is an advisory firm helping corporates develop, articulate and execute their ESG and sustainability strategies. Our work includes sustainability performance reporting support under various ESG frameworks, strategy development or conducting materiality assessments. By doing so, we help businesses meet their disclosure compliance requirements like CSRD but also help them proactively communicate their strategy to other stakeholders like investors, customers and local communities in which they operate. Our work is focused mainly on Europe and North America.
Book a free discovery call below
This communication is marketing material. The views and opinions contained herein are those of the author(s) on this page, and may not necessarily represent the views expressed or reflected in other NordESG communications or strategies.
This material is intended to be for information purposes only. It is not intended to provide and should not be relied on for accounting, legal or tax advice, or investment recommendations. Reliance should not be placed on the views and information in this document when taking individual investment and/or strategic decisions. Information herein is believed to be reliable, but NordESG does not warrant its completeness or accuracy.
Some information quoted was obtained from external sources NordESG consider to be reliable. No responsibility can be accepted for errors of fact obtained from third parties, and data and information contained in this communication may change in the future. The views and opinions expressed in this communication may change.